I feel like I am back in grad school (just after the demise of the dinosaurs)... I am happily completing my assignments--and they are related the BlogUniverse!
I have finally made it to my 11 in '11 Link Up! (Sorry Kristin and Hadar, I am trying to do these tasks in order and I am a SLOW Blogger! But I saw my name on that list (or a name that could be mine) and I don't want to disappoint my pals, so here is my contribution...)
BTW, How was lunch? What did you wear? What did you eat? Did you take pictures? Hmmmm. I am starting to worry about a conspiracy... Did you take a vow of silence and then pinky swear that you would share no details? Darn! I was in Washington! I should have notified Ellen. Or at least Hollywood Minute...)
[Update--And I haven't even published yet! Type faster, Kim! I have now seen TWO sets of pics from the Meet Up. It's just like in Pinocchio... You ARE real!]
Without further adoo (Oh hahahaHA! Too much time reading kinder blogs!) Without further ADO...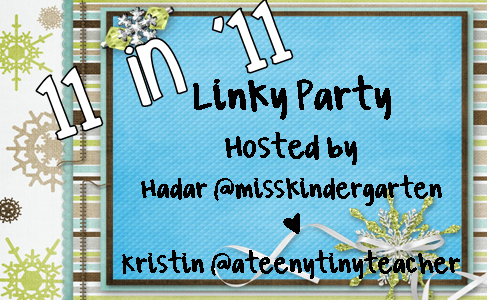 11. Favorite Movie:
I would agree with the masses and say
The Help
(LOVED it). But I also watched another indie film called
Project Nim
. It had some funky "sixties stuff," but it delved into Noam Chomsky's idea of language acquisition--by a chimp named
Nim
. There was an unexpected hero (besides
Nim
). Here's some irony... the next weekend I saw Planet of the Apes! (I preferred
Project Nim.
)
10. Favorite TV series
:
Ohhh... Golly... Should I admit this one? I definitely get credit for having diverse tastes... I LOVE watching TV and movies (and movies on TV!), but this collection all seems to come from the Reality TV genre...
1. I've always loved MADE--sort of my "If you believe it, it will happen" show. The sixth graders think it is hysterical that I watch this show
2. Hoarders and/or Hoarding. These shows are cathartic. After watching an episode, I almost always clean something up or throw something (or many things) away!
3. Storage Wars: A bit like treasure hunting--I actually like the "finds" better than the people
4. The Little Couple: I am fascinated by the way Jen works with at-risk infants and the way she adapts and modifies things in her life and work based on her physical challenges. She has an eternally sunny personality despite her ("real life") struggles with trying to add a child to their family.
9. Favorite Restaurant:
Does ice cream count? Ohhhh. I LOVE chocolate fudge ice cream. In 1976, there was a flavor called "Valley Forge Fudge

" in honor of the bicentennial. I know, I know, most of the BlogReaders weren't born yet, but that flavor was heavenly... chocolate fudge ice cream, with a fudge ribbon, and some fudgy bits. Nom Nom Nom... I am all about the CHOCOLATE!
If it has be "real food," I would choose the Thai chicken pizza at California Pizza Kitchen... hold the cilantro (that's a bit sacrilegious for a Californian, I confess, but I generally jettison most food items that are green). This is one happy tasting pizza!
8. Favorite New Thing I Tried:
Well, redundancy reigns here, because it has to be BLOGGING. In all honesty, I am still trying to blog. Being a "digital immigrant" rather than a "digital native" means an unfortunate learning curve for me. I have to try something 384 times before I can do it with any ease or accuracy. Thus the fact that I am going on six hours just on THIS POST and I still can't make the pictures look quite right. (Why do my pictures always have edges and everyone else's blend into the blog?!)
7. Favorite Gift That I Received:
I bet no one wrote about this one. In fact, you are going to be sooooo jealous, that you might want to reconsider before reading on. Ready? For Christmas, the hubs got me... MUD FLAPS/SPLASH GUARDS for my new (gently used) car. (Confession: He paid for part of the car too but the real "present" was the set of flaps.). The "flapadoodles" (my word, not his) are more to protect the paint from freeway rocks than to guard against splashes of water, ice, or mud. I'm just not that adventurous when I drive to school, Starbucks, or Barnes and Noble.
I am so appreciative that he wanted me to take good care of the shiny paint on my new looks-like-a-little-red-tank
Honda Element
. It can carry at least 12 teacher boxes which is a normal load for me during September and June--and on those days when I clean the classroom by putting everything in the car. (Another confession: Sometimes I bring the stuff into the house and sometimes I just drive it around for a day or two.)
6. Favorite Thing You Pinned:
I loved the mini fridge (from Pottery Barn Teen) and I bought it so that I could hide Diet Cokes in my classroom. I got the pink one--it's even cuter in person!
I don't know why I was so taken with that Adjective poster, I just loved the colors and the little words on the shapes. It may not exactly be my favorite, but I.Just.Like.It. I'm not a great pinner. But Jen Runde is. Sometimes I just look at Jen's pins and then pin them on my boards! (I think that might make them my favourites!)
5. Favorite Blog Post:
I liked my airplane posts because they were REAL-life terror experiences, and the fear is still fresh in my mind. I was sitting in the airport, panic-stricken, typing to my
BloggyFriends
: Save Me, Save Me! (And your responses were all so sweet, they made me cry--repeatedly! Thanks so much!)
And I am quite attached to The Red Cup post. That was a true from-the-heart post. It was the only time I felt a post unfolding in my head as the experiences tallied themselves up. AND I really like the sayings on the cups! (Not to mention my beloved mochas)
4. Best Accomplishment:
I love little accomplishments, like when a sixth grader remembers what 4 x 4 is, or they say "I don't hate social studies as much as I used to," or they ask, "Can you find me a book?"
A true highlight, however, was being asked to be an author at TBA. It happened around Halloween time, and it was so unreal, I thought it was some kind of "You've Been Boo-ed" prank or an Internet scam. And then Tamara wrote me some really sweet stuff in an e-mail and it just warmed my heart! And it was like "flying up"from Brownies to Girl Scouts. I still remember the dream-like awe of that day!
3. Favorite Picture:
Ohhhh... you didn't mean a picture, you meant a photograph. I don't do those. I can barely find the Go button on my camera. But if I learn,
Maybe I'll post a picture of my chubby little self in a few weeks. Let's just say I will look more... unusual than m,y usual! Stay tuned.
2. Favorite memory:
My Dearest had heart surgery (a really BIG heart surgery) in March.. They gave him a bunch of new parts and pieces in his heart and now you can hear his heart in movie theaters and churches. (Although more than once he has gone off searching for a leak in the house because he hears a tup tup sound--and forgets that it's HIM! So, my favorite memory of 2012 was when the cardiologist said, "his heart is performing well." Ah, God's grace and pure JOY! I still worry about him constantly... but that tup tup sound is now a comfort... and it sounds like LOVE to me!
1. Goal for 2012:
I'm just not ready to commit yet. But when I do, I am heading over to Teacher's Treasure, because Mor is Having a Resolutions Linky Party and I know she would just love it if you would join her party too! Isn't that button so CUTE?!
And, if you haven't read Farley's post on this subject, you should go there too! She had some GREAT reflections on a concept called One Little Word. It gave me a lot to think about and I think you will love reading about this inspiring idea too. Click and enjoy!
Well, that's it for me. I still have two Blog assignments to go, but I rather like this kind of stuff! Beats grading those persuasive essays any day!