I feel like I have been waiting forever to use this cute star paper! It's from Teacher Wife's "Pretty Papers" set (
HERE
on TpT). Isn't it festive?!
Even though it is summer vacation for me, I thought that today I should behave like it is a holiday... A grill-your-dinner, sit-in-the-sun, watch-a-movie "vacation" day. Even though all the other days are "vacation days," I still feel compelled to get things done. Today I am trying a little harder to relax...
I have been doing some professional reading during the past few weeks. I am almost finished with
Productive Group Work
by Frey, Fisher and Everlove. Reading this book has reinforced that I have a HUGE role in making cooperative group work successful. There are certain things I need to say and do to make the learning more efficient and I need to be strategic to be sure that everyone is making academic progress. Nothing about it sounded easy--but it all sounded true!
In my last post, I commented about following me on Bloglovin. I finally "borrowed" a button designed by sweet Melissa at Common Core and So Much More. I hope that you will click on the button at the top (right) of my blog to follow me with Bloglovin.
Here is some awesomeness for you: Melissa is willing to share the button with you too--she even has a tutorial on how to install it... right
HERE
!
And if you'd like to link up with some other bloggers on Bloglovin, Sidney at
Teaching is Gift
is having a Back to School Blog Hop and she is giving away some adorable posters with a chalkboard theme. She's hosting the hop along with
A Teacher Without a Class
who is holding a giveaway for a laminator that looks mighty wonderful! Enter through rafflecopter on her site--What a great back-to-school present to yourself!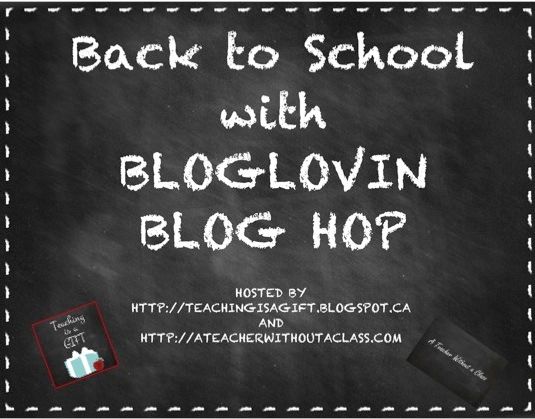 So click on the graphic above to read more about the Blog Hop. You can even have the link up on your site if you choose! And when you get there, click on the bloggy-buttons at the bottom of the post to find some new connections. Isn't summer the BEST time to make new friends?
If you are not following my blog, I hope you will add me to your list. And if you are, thank you so much for sticking with me through the changes from Google Reader to Bloglovin--or whatever other "reader" you choose. I am honored to be a part of the Blogging Community and truly value the fact that people stop by my blog to visit and/or comment! (I still get teary-eyed when new comments pop up. Truly!)
So, Happy Fourth, Happy Thursday, Happy Summer. Wherever you are today, I hope that you are enJOYing what you are doing...