One of my favorite things about Blog World is the chance to meet so many wonderful new friends! And that's exactly what happened when I decided to participate in the Magical Product Swap organized by sweet Jessica at Mrs. Stanford's Class.
As part of the Swap, lots of bloggers got together and reviewed items, games, activities and other goodies that each other had created. Many of these products are available at TpT (Teachers Pay Teachers), Teacher's Notebook, or in stores on bloggers' own sites. The goal was simple: Describe your partner's product so that a blog reader could see how wonderful it is!
My partner for the Product Swap was the talented Andrea Kerr at
F
or the Love of Teaching Math
.
You will love Andrea's site... She has great ideas and lots of games and activities. Everything about her blog emphasizes that learning math can be fun. Here's what makes this site even more exciting to investigate: Andrea has her own store!
It was in Andrea's store that I found a great game called
Go Fish: Converting Fractions, Decimals and Percents
.
Within minutes after downloading this card game, I knew it was an activity that will be well used in my classroom this coming year.
Purpose
This card game is played as a traditional "Go Fish" game--except that students are matching equivalent quantities. Equivalence is a difficult concept for many students. Often they think that if the "form" looks different, then the quantity must be different. This card game helps students practice matching equivalent quantities that include decimals, percents and fractions with different denominators. In a single round, there are lots of opportunities for learning and review!
Presentation
The cards are colorful and cheerful--and just whimsical enough to catch the attention of upper elementary/middle school students without being too "cutesy." Andrea used fish images from Scrappin' Doodles and they're just plain
fun
to look at! And just before I finished this review, I figured out that the "Go Fish" game used
fish
graphics! (It is summer after all...)
The cards are small enough to hold in your hand--and by choosing this size, you only had to run off and laminate three pages of cards. This would save on ink and laminating if you needed to make several sets of cards to use in the classroom.
I love the fact that the cards have a thick black outline. This means that you can use a paper cutter to cut out the cards... and each card will retain an outline. Those OCD voices in my head were silent--and happy! Now I know that this little detail will only matter to about 3% of the blog readers on the planet, but it mattered to me. Lovely!
Differentiation
There are several opportunities for differentiation when using this game in the classroom. Some of the quantities are easy to match and a few are more challenging. For example, not all of my students will learn that one eighth is equivalent to 12.5%. However, that is an ideal goal for many of my students. A teacher could easily take out/add in cards to make the game more appropriate to the skill level of different groups of students. Further, really savvy students may notice that the four equivalent cards have four different fish. Making this detail explicit could be used to support students who need a little extra boost to match the cards; if they have two cards with the same fish--those quantities are not equivalent. Further differentiation is possible through the way in which players ask for cards--as discussed below.
Playing the Game
Once the cards are passed out, students will need to look for equivalent fractions already in their hand. This is good practice for recognizing equivalence--and the game has not yet proceeded beyond dealing the cards!
Changing the game directions allows you to adjust the game in different ways. Players may ask, for example, "Do you have an amount equal to one half?" This is a straightforward approach and is a great place to begin. When my nieces played, they asked for equivalent quantities. For example, if one had "four fourths," she might ask, "Do you have one whole?"
It became a challenge to guess different ways in which equivalence might be expressed. This type of analysis definitely added another layer of complexity to the game.
After students have played a few times, they will be more familiar with the cards and the game is a little easier. In between plays, students will naturally "sneak a peek" at the cards that have already been played (and matched)... still another opportunity for more learning!
In reality, the cards could be used without playing an actual "game." Simply having students find two or four "matches" with all cards face up could also provide practice--in a fun way!
So there you have it. I think you will find many different ways to adjust the game and accommodate varying levels of math skill. Click on the picture of the game "cover" to get to Andrea's store or click
here
. There are lots of other great math games in Andrea's store too! I am so lucky I got to review Andrea's
Go Fish
game!
Today Andrea reviewed my Getting to Know You game on her blog. Click over
here
to see her review of this activity designed to build community and help students get to know each other--just in time for back to school!
And don't forget to click on the Magical Product Swap button at the top to take you to Jessica's site to see more products. Here... I'll make it easy for you... I'll add that button again and put it right here...
And, while you're at it, click over to
The 3am Teacher
too. Michelle designed the button for The Swap and she has an amazing selection of graphics to choose from--that's what happens when you stay up past three in the morning drawing cute stuff! She is SO very talented!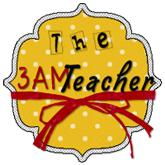 There are so many interesting elements involved in today's "Swap Meet-Up" Just click around and join in the fun!